Eastern Connecticut St Soccer - Foundation
Join Nevers Nation - Eastern Soccer's Fan Group
Location

Event Date(s)

Event Status

Willimantic, CT
Jul 30, 2013
This is a completed event. Please check back later for upcoming event dates and to register online.
Event Description
Eastern Youth Soccer Camps
Join Nevers Nation - Eastern Soccer's Fan Group
---
We invite you to join NEVERS NATION – Eastern Men's Soccer's Fan Group. Nevers rocks for Eastern home games.  Be a part of this. For $10 you can choose a Nevers Nation t-shirt or scarf. You will also receive pizza at 3 home games.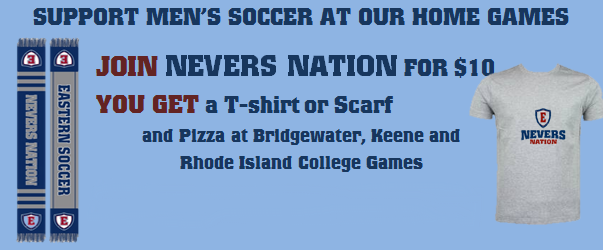 For more information, please contact Coach DeVito at 860-465-4334 or devitog@easternct.edu.